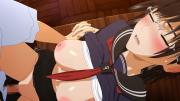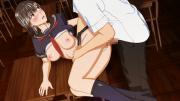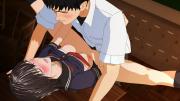 "Autumn---, in that afternoon classroom---, I fell in love with her at first sight."
Class president Yui wanted to talk privately with Shou (the protagonist).
She was really taking him to task today, and wanted to challenge him.
He reluctantly accepted, which was teh start of something... unexpected.
Cel shade / Fully voiced / 3DCG animation
Foot massage, cunnilingus, missionary x 4
handjob, blowjob x 3, paizuri (breast sex)
standing, doggy style standing x 3, more
Each motion is a looping anime visible from 4 angles.
(Finishing cumshots are 1 oral, 2 creampie)
Rendered in cinema-quality 24fps animation at full 1:1 framerate
and stylistic blends of 2:1 and 3:1 framerate (please note 1:1 framerate
is not implemented for every shot).
The movie gallery is accessible after you finish viewing the first time.
Presented in 1024x576 size with an application at 1024x768 size.
Movie format: WMV
Audio format: OGG